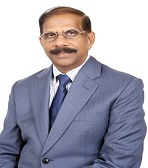 Dear Vidya Trustees and Family Members,
I would like to once again wish you a very very Happy New Year which I hope will bring you happiness, good health and prosperity.

I express my great pleasure being the Chairman of Vidya International charitable Trust for the last one year, during this span we have achieved a number of milestones that I wish to share with you as we begin this New Year.

It's a matter of great pleasure that Vidya is very fortunate to have many passionate and dedicated members like all of you who are always ready to invest your time, talent and resources in the future viability of the institutions owned by the trust. The commitment and contribution of our family members have placed our missions and visions far step ahead with lot more achievements and better possibilities in many areas like research and development, Value added courses, Better Placements and far more strategic developments which I would like to bring into all your attention.

The year 2017 has already winded down gifting many precious moments and happenings for both the VAST campus. We thrived in several sectors bagging extravagant titles. We were distinguished with several honors in competitions conducted by Central Government, Funding from several reputed agencies, Awards of social and economic importance, Tie ups with Organizations recognized worldwide, Victory in nonacademic events. Many events and campaigns contributing to social welfare also happened in 2017.The academic achievements contributing to the research and developments include Early Career Research Award by SERB to Dr. Sooraj Prabha (Asso Professor , Dept of Mechanical Engineering VAST), Two funded Projects worth 49 Lakhs were bagged from ISRO and DST, Ms. P G Aishwarya (Student, Final CSE,VAST) won second prize worth Rs.1.5 Lakhs for her project in Swachathon Organized By MHRD, Govt of India, Mr. Lagari A , (S5 EEE, VAST TC) got selected in the 19th "World Festival of Youth and Students" held in Sochi, Russia, Ecolog Paper pen project by student entrepreneurs secures best project award in competition organized by Federation of young studies in association with IRTC, Students of CSE bagging First prize in "EUPHORIA 2K17", a national Techno Cultural Fest.

VAST Thrissur established Centre for Continuing Education (CCE) to conduct value added courses that benefits both the students in technological updating and revenue generation. Each department has a minimum of one value added course running during each semester. There is an incredible increase in number of funded projects which is a great positive sign towards our mission. VAST Thrissur was yet again identified as the BEST FACULTY CHAPTER by ISTE. Undertaking consultancy projects, Workshops and seminars in latest trends are started to roll out in each department. Launch of Vidya Mobile App (Developed by Dr VN Krishnachandran) & Engineering get it App created by Mr. Arun Xavier (EEE Dept, Assistant Professor, VAST) crossed 10000 downloads promising VAST a future in app and web development and even start ups. Another overwhelming moment for VAST fetching name and fame was when "HASTI GRIHA", a start up mission laid by our students bagged Rs.2 Lakh grant from Kerala Startup Mission (KSUM) released by Hon Chief Minister of Kerala. Various National seminars were held in which eminent resource expertise's visited and handled the sessions.

Like the previous years, we could maintain the same fair record of academics in University examinations with Ms. Neethu Mohan & Ms Shaliya P S securing University First & Second Rank in department of ECE. Ms. Neelima N of Civil Department & Susobh V S of Mechanical Dept bagged third & Fourth rank in the University Examinations. VAST has an overall record of 38 university ranks since the beginning.

Despite adverse market conditions, Vidya has done well; Over 230 final year students have got placed in leading National and Multinational companies. They have participated in placement drive of 40 companies and a few of them have taken posting abroad. Vidya Implements systematic plan to mould the students of International Caliber.

VAST principles and Visions which was laid reserving lot of importance to Nature conservation incurred a privileged recognition through bagging OISCA award for the contribution in preserving Nature, NSS cell bagged Best NSS unit as well as Best NSS PO award for the first time in history of NSS Kerala, The NSS cell of both the campuses are effectively into many socio economic welfare schemes.

2017 was a great year for Vidya in Arts and Athletics with students bagging Best Musician Award, Best Campus Reporter Award, Champions Title in the All Kerala APJAKTU Women Table Tennis, Champions title at the APJAKTU E Zone Table Tennis Championship, Third position in the Calicut University D Zone Inter-Collegiate Badminton Championship.

We have just conducted 4th Edition of EPSCICON, the International conference organized by EEE department at our Thrissur Auditorium. There are upcoming conferences planned by various departments of both the campuses.

We are not sitting idle contended with the present accomplishments. Trust and various units under it are now in the work on an ambitious future development plan named Vidya Growth Plan 2020 (VGP2020). More details will be communicated to all of you by early February 2018.

Let me thank you all who have contributed to the institutions and Trust which have been behind the transformation of us from our formative years into this dynamic and effective organization which was once beyond all our imagination. I am also delighted of our Team has been further strengthened with the involvement of new Trustees in the younger age group during the course of the last several months. Impact of this is going to help us to put the organization in a much higher orbit. Once again I thank everyone supporting our cause and expecting the same backing in future too.


ishing all a rewarding and joyous year ahead!!!


Sudhakaran Polassery
Chairman - Vidya International Charitable Trust (VICT)